Eat brains. Don't get shotgunned.
Based on the original Zombie Dice . . . but now the Zombie Dice App brings the dice, and a zombie opponent, to your iPhone!
You're a zombie, racing to be the first to eat 13 yummy human brains. But those humans fight back. Press your luck. Keep rolling, keep collecting brains . . . but if you get three shotguns, you're out!
Enjoy the zombie animations and sound effects (Braaaaaaaiiinnnns!). The zombie will talk to you after every roll, just like a human opponent . . . but remember, he wants you to LOSE!
If you like the game, you can upgrade for only 99 cents (the price is a no-brainer!) and get more zombie goodness!
---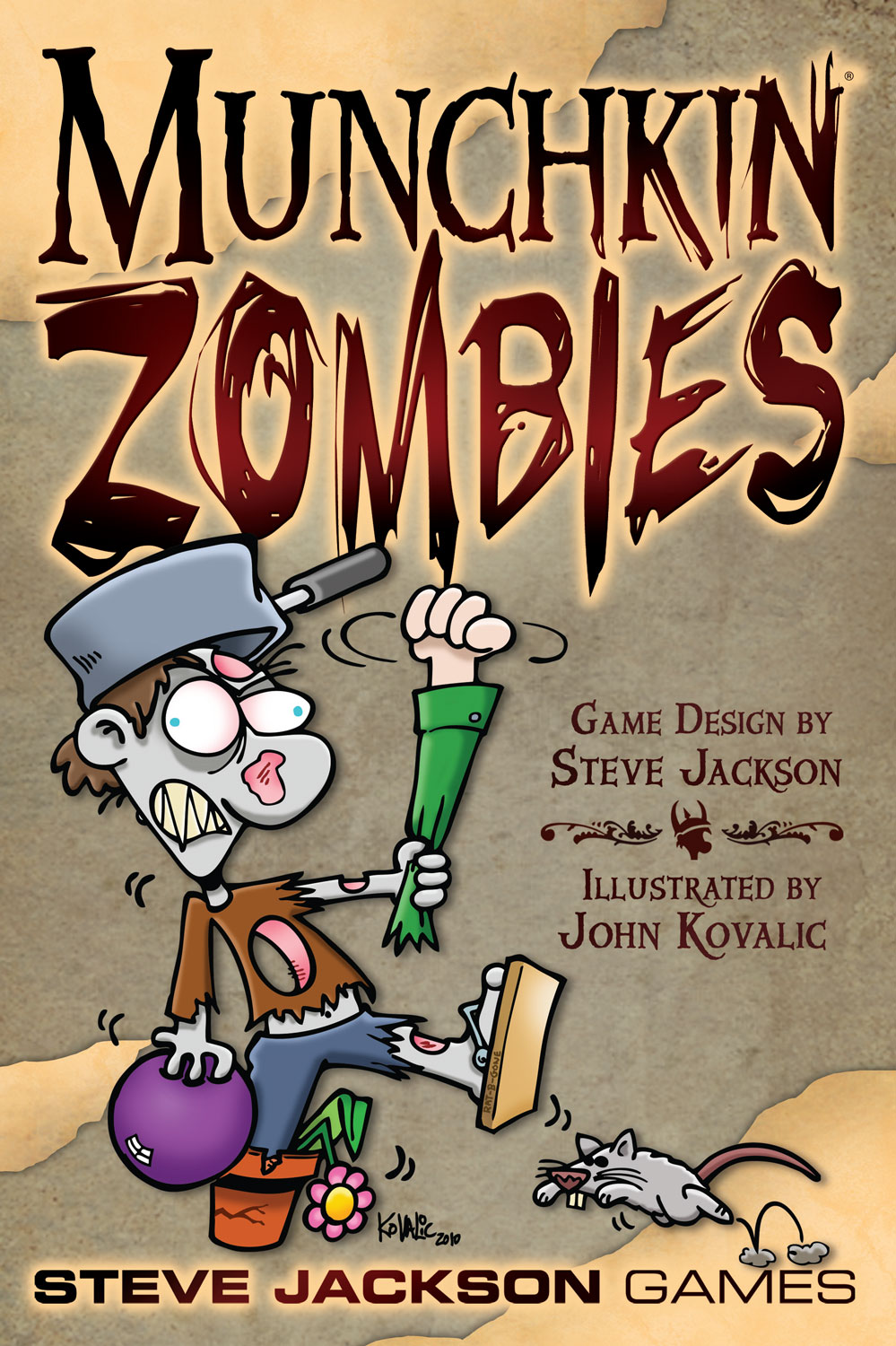 Kill the Living! Eat their Brains! Braaiiinns!
Munchkin Zombies is the sickest, silliest Munchkin yet! The players are zombies, kicking down doors and eating brains. The "monsters" they're attacking are people, ranging from helpless to hazardous, with a few rogue zombies thrown in. The armor is whatever you've blundered across during your lurching search for brains. So bravely you'll go forth, with mousetraps on your feet and a bowling trophy protecting your poor rotting head . . . to level up, or to die.

---
Get GURPS Undead, the complete "book of the dead" for GURPS Third Edition!
GURPS Undead covers everything from subtle hauntings to undead necromancers, from Gothic vampires to the brain-eating zombies of the B-movies. Inside you will find a history of the undead, guidelines for creating your own undead (including animals, plants, microbes and even vehicles) and a dozen classic undead archetypes with variants and sample characters. You'll also find extensive advice on how to use the undead dramatically as scenery, plot devices, monsters, villains or heroes. As well, GURPS Undead features discussions of many related topics, including tombs, death gods, embalming, funerary rites, grave robbery, necromancy, pathology, souls, the afterlife, spells, symbolism and more. In short, everything you need to inject new life into your undead.
What are you waiting for? Life is short . . .
---
Black Lake, California, the idyllic small town you've always dreamed of . . . clean air, sparkling water and a scenic countryside . . . friendly townfolk and an easy life style . . . a perfect haven where everything is beautiful and peaceful!
Almost.
There's the mayor who doesn't remember hiring the investigators, the phones that give a constant busy signal, the sudden storm that drowns three brothers, the mysterious van that cruises the streets of Black Lake.
And then the dead begin to walk . . .
As the investigators unfold the strange events shrouding Black Lake, they are drawn deeper and deeper into a complex web of horror, uncovering a sinister plot that is paralyzing the whole town. Only they can foil the plot that threatens to turn Black Lake into Zombietown U.S.A.